Links
Gratitude Cafe
House of prayer are pleased to support a community events cafe in Wellington which offers a weekly timetable of events including live music, arts and crafts and children's community projects. The cafe offers an excellent locally scoured menu of food and drink and is open from Tuesday to Saturday. For more information please follow the link to the following website http://www.gratitudeeventscafe.co.uk/ or visit the Facebook page @gratitudeevents
Telford Street Pastors


Street pastors are recognized by the Home Office and have been around for 12 years, now with over 270 groups and 16,000 trained members in the UK, who care for people out on the streets late at night , often around nightclubs and bars.
Being 'pastors' on the streets brings incredible opportunities. The 'doors are open because so many ask ( because of compulsory uniforms) what 'pastors' are - and there's our opportunity to talk of Jesus! And there is generally a uge respec, especially when young people learn that we do this for free - we are not paid! The lollipops, too, open doors to many conversations, helping us get to know people. Telford Street Pastors need more recruits - both as Street pastors and Prayer Pastors in the base.
You dont need any training to come out one night with us as an Observer! We would love you to do this. Please speak with Martin Hawke (martinhawke7@gmail.com)
Also please visit www.streetpastors.co.uk and Telford.streetpastors.org.uk
Thank You!

Compassion
Why not sponsor a child?
Everyday, almost 16,000- One every five seconds- die from hunger related causes. Many more die through drinking unclean water and preventable diseases. 134 million children between 7 and 18 have never been to school. Over 200 million children around the world are involved in child labour.
And we can change the life of a child for just 83p a day (£25 a month). Sponsoring a child through Compassion.org will change his or her life forever. Through sponsorship, a child has a one to one relationship with the sponsor through letter writing ( once a school term) and prayer; education support and school uniforms; the love of the local church and the opportunity to hear the Gospel; at least one good meal a day;medical, dental and nutritional care and vocational training so that he and she can become independent on leaving school. We aim to lift children out of poverty, not just support them through it.
Please visit our comprehensive website www.compassionuk.org , or please chat with Martin Hawke. or email Martinhawke7@gmail.com.
Thank You!

Telford Christians Together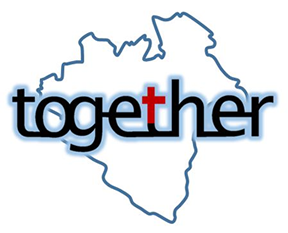 Westminster Theological Centre
Catch The Fire
Bethel Church, Redding